I am a freelance illustrator living and working in Cornwall. I studied at Falmouth School of Art, where I specialised in Ceramic Design, but later returned to painting.
I work in acrylic on board, and also Photoshop, creating lively, quirky illustrations for children's books, magazines, advertising and packaging. My list of clients include:
Templar Publishing
Egmont Publishing
Hodder & Stoughton
Royal Horticultural Society
Bookstart
Organised Mum (Boxhouse Publishing)
Scholastic
Pearson Educational
Engineering & Technology Magazine
Lip International
Irish Cancer Society
Guide Dogs
Ambrosia Rice
Zeffix Pharmaceuticals
IPC Magazines
D.C. Thomson & Co. Ltd.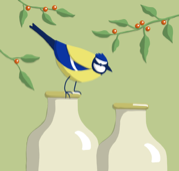 All images © Beverley Young 2014